Reading Time:
7
minutes
Fibre has been long-touted as the futureproof Internet solution. With extensive private and public investment poured into the extension of fibre optic networks, it's set to be the technology that will increase bandwidth, suppress latency and provide never-before-seen download and upload speeds. Certainly, it sounds good – but are there other pretenders to the crown? Enter LEO satellite Internet, which could be a game-changer.
Companies like Starlink, SES, and OneWeb are using Low Earth Orbit (LEO) satellites to provide Internet connectivity. These satellites are positioned 700 to 3,000 km above the Earth's surface, dramatically cutting the latency periods previously offered by satellite connectivity.
But does it compare to the speeds offered by fibre? Not to give everything away upfront, but in short, no. However, it may be a blend of these technologies that connect the world – an issue which we'll explore here.
The technology defined
First, we'll briefly outline the technology, for those that aren't already familiar with one or both. Fibre networks are delivered via fibre optic cables comprising multiple strands, each around the width of a human hair. These cables are made of two primary elements, both made of glass: the core and the cladding. The core is where data is transmitted in the form of light and the cladding prevents this light from escaping.
This construction allows for bandwidths up to 1,000 times greater than those offered by copper DSL cables. This, of course, has major implications for user experience. For domestic convenience or entertainment means, multiple streaming devices can operate at once with no lag. For businesses, the prize is even greater; the productivity gains from data transfers at this speed could be substantial.
However, fibre optic networks require large-scale infrastructure. Laying the cable requires trenching or trailing across overhead cables, depending on the requirements of the local area. For rural or remote areas particularly, this could be a logistically or economically unviable task. This is where LEO satellites come into play.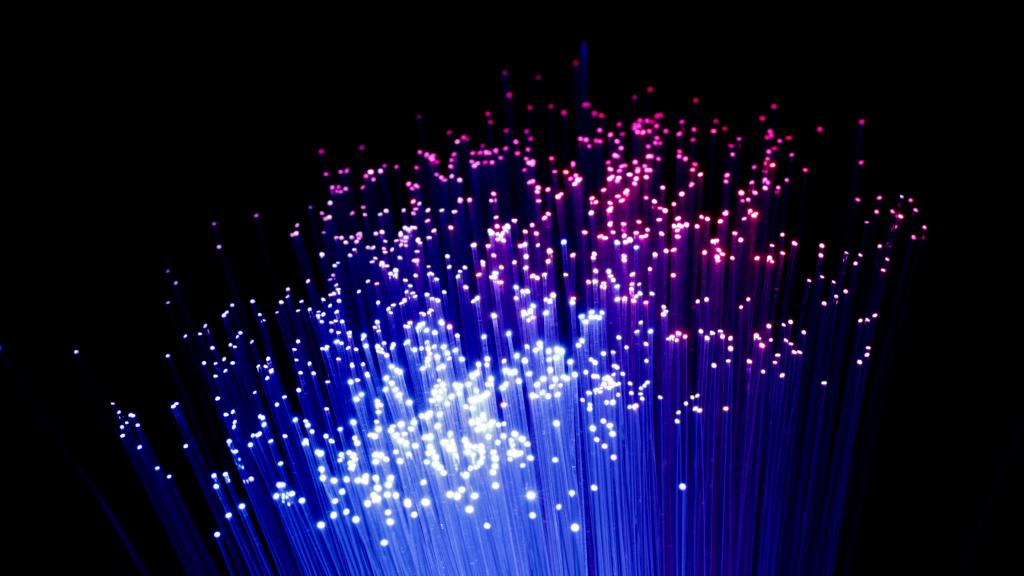 LEO satellite Internet works by connecting homes and businesses via satellites to antennas with RF. Whereas previous satellite connectivity solutions provided relatively low throughput and latency, LEO technology currently offers speeds up to 100-300 mbps. Due to their location up in the air, they mitigate the need for long infrastructure and public works. That said, one LEO satellite has a small field of view, so can only communicate with one small area at any given time. That means that a network or "constellation" of satellites is required to provide continuous coverage.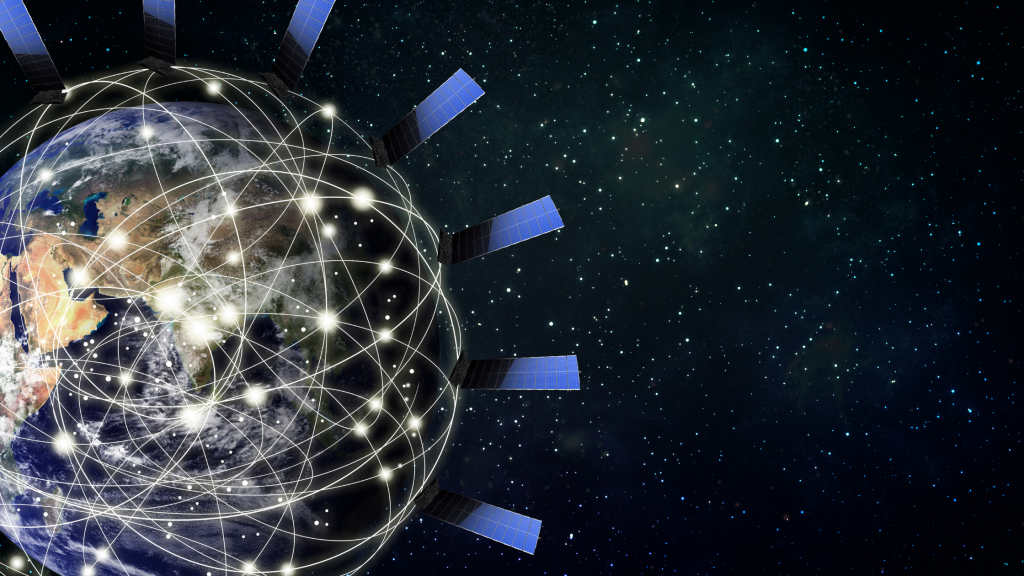 So how do the two compare? Could the seeming space-saving solution that LEO offers mean it'll supersede fibre optic as the connectivity option of the future? We've already made the assertion that this is unlikely to be the case, so let's get into why. The key metrics or areas of concern are reliability, availability, cost and speed.
LEO satellite Internet vs fibre
Reliability
The crucial thing to remember about satellite Internet is that it relies on a wireless connection. You just have to plug in a Bluetooth speaker to realise that these connections can be unstable. Therefore, they experience more interference than fibre optic networks, which are hardwired and thus more reliable.
Obstructions, like trees, buildings, or bad weather can also compromise the reliability of LEO transmissions, whereas fibre is generally immune to these issues. However, engineers are looking for solutions; one possibility is another satellite in the constellation picking up the dropped signal from an obstructed component.
Availability
LEO satellites may have the edge when it comes to availability. In some rural areas, satellite Internet is the only option as they don't have the infrastructure to lay a fibre backbone. Meanwhile, with satellite connectivity, you just need power, a terminal, a clear view of the satellite and you're in business. Starlink, Elon Musk's offer to the satellite connectivity market aims to serve the "3% hardest-to-reach customers," all but closing the digital divide and opening opportunities also for high-speed internet access on planes or ships.
Even if it is expanding fast, Fibre to the Home or FTTH (that is, a fibre connection directly to the home or premises) is still not available in many places and Fibre to the Curb (FTTC), where the rest of the last-mile connection is made up of copper cables, is the norm.
Cost
Certainly, LEO satellites mitigate the need for costly infrastructure; but at the end of the day, it's about the end-user. Currently, LEO terminals are too expensive to be marketable, with most units coming in at $499 or more. Starlink is trying to address this issue by offering heavily subsidised terminals, but they'll still be pricey in comparison to a fibre connection. But then you've still got the subscription, which is another $99 a month.
The price of fibre depends on the infrastructure in your area. However, for the average urban connection, you're looking at between $50-$100 for installation. From here, it's $30-$70 per month, which is much more viable for the average household or small business.
Speed
Speed is where fibre really has the advantage. Satellite data rates have come a long way in recent years; these connections used to be painfully slow, offering data rates as low as 750 Kbps. Thanks to the higher capacity RF spectrum, and indeed, the dawn of the LEO satellite, it has picked up to about 100-300 Mbps.
However, this still pales in insignificance compared to the rates offered by a fibre optic network. The average fibre customer can expect to reach speeds of 1 Gbps and more, facilitating simultaneous streaming, comparable upload and download speeds, and seamless video calling. This is ideal for work-from-home individuals and digital businesses alike.
Satellite vs fibre optic: The breakdown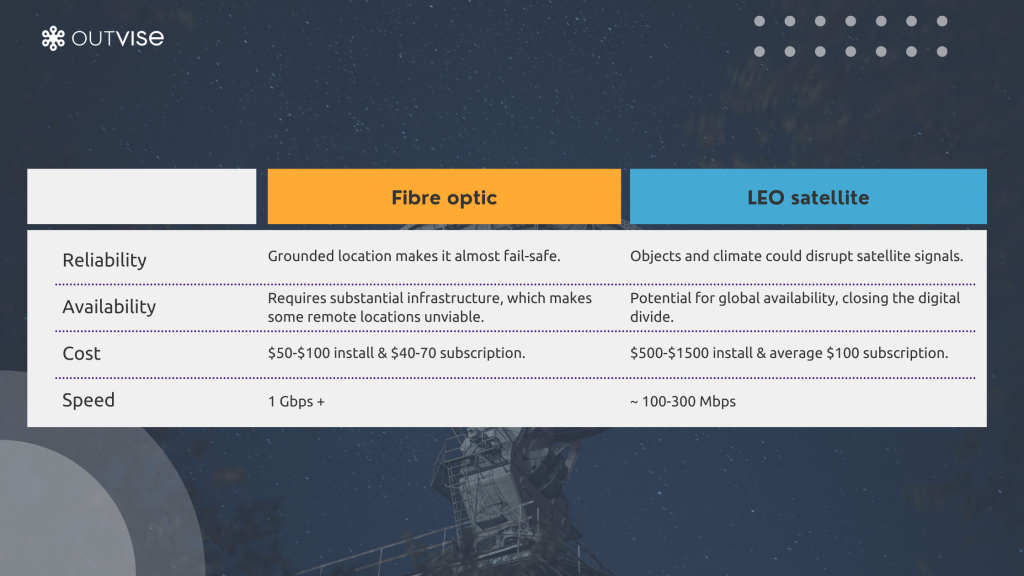 As this table illustrates, fibre comes out as the clear winner three out of four times. This is why governments and telco alike should throw weight behind extending the fibre network footprint, as it presents a substantial leap forward for connectivity everywhere. However, this isn't some sort of suggestion that LEO should be abandoned; in fact, quite the opposite. To create truly global connectivity, we should take a blended approach. Below are some scenarios in which LEO connectivity could provide a solution.
Useful applications for LEO satellite Internet
Rural municipalities
In some rural areas, it is possible to lay a fibre connection – but telecoms companies aren't particularly incentivised to do it. This is because they might not be profitable in the short to medium term, thus making them unattractive investments for a market that's still in its infancy. Some communities have taken it upon themselves to initiate community-owned fibre projects, but LEO satellites could present an alternative.
Remote areas
There are rural areas and then there are remote areas. These are locations that fibre couldn't reach even if they tried. One such example is the western coast of Greenland, which is cut off from the undersea fibre lines that connect other northern regions by a glacial fjord. Another is Nunavut, the only jurisdiction in Canada without access to fibre Internet, nor speeds of over 25 Mbps – a luxury that 94% of Canadians enjoy. LEO satellites could close the digital divide between Nunavut and the rest of Canada, providing the bandwidth they need to boost connectivity in the area.
Planes and ships
Proper broadband access is something that many would like to see on planes and ships. LEO satellites can definitely substitute the slow and unreliable Internet access provided by some airlines and provide the opportunity to access the Internet while travelling around the globe.
The Internet of Things
It's estimated that there will be 41.6 billion IoT devices by 2025. This technology is becoming increasingly crucial to business operations, so what happens if you can't get a fibre connection? Businesses, especially those in rural or remote locations, don't deserve to be on the back foot because of the lack of a fibre connection. This is where LEO satellites could play a key role. They could also be useful for on-the-move IoT devices, such as those used by truckers, fishing trawlers, or military operations.
A blended approach for a connected future
When it comes to closing the digital divide, there is no clear solution. Something that we do know is that fibre is certainly preferable, but not always possible. One size doesn't fit all: what might be viable for one rural community in the German countryside may be quite a different situation for another in Western Greenland or Sub-Saharan Africa. Therefore, a blended approach is a solution to ensure every community has the connectivity they need to prosper.
There are already murmurs of this sort of collaboration between satellite Internet providers and more traditional telco. For example, Amazon's LEO satellite project Kuiper has partnered with Verizon to backhaul 5G in rural areas. Perhaps similar partnerships could be brokered to attract public and private investment to close the digital divide. Fibre providers could collaborate with satellite projects to create a blended fibre optic satellite system for comprehensive connectivity across regions.
Find the expert you need with Outvise
Ambitious and innovative telecom projects need the right experts. They have to be abreast of the latest technology, market developments, and the regulatory landscape. However, this niche expertise can be hard to find; it'll either have been snapped up by big players or have gone freelance. Sometimes recruiting freelance experts can feel like an overwhelming task – which is where Outvise comes in.
Outvise is a specialist platform for telecom and digital freelancers. The curated portfolio of thousands of specialists enables forward-thinking telecoms providers to source the expertise they need. With everything from consultants to engineers, legal experts to network designers, there is a profile on Outvise to get your project off the ground. Explore the platform here – and find the expert you need, no matter how niche, in as little as 48 hours.

Alberto is a strategy consulting professional, MBA from IE Business School, ex Monitor Deloitte, with more than 17 years of experience in business strategy, go to market, strategic planning, digital transformation, innovation and financial modeling for multiple Global 500 telecom and consumer goods companies.