Reading Time:
4
minutes
Over the next four to five years, the number of devices connected to the Internet of Things (IoT) is set to surpass 25 billion. This will be more than the number of personal computers, mobile phones, and other personal connected devices. Undoubtedly, the exponential growth of IoT architecture is a significant event in the history of technology.
IoT has a profound connection with automation and robotics. This enables development in two directions; one which creates new smart products for consumers and another which optimises the internal processes of businesses. This push toward greater economic efficiency will precipitate radical changes in organisational structures, creating more competitive business models and products.
Moreover, the COVID-19 pandemic has accelerated these changes. The crisis compelled individuals and businesses alike to rethink their daily existence. The introduction of new technologies, codes of conduct, and technology-driven management styles have rapidly become the norm.
Under these conditions, the imperative to adopt IoT solutions has only intensified. Some companies are already deploying IoT solutions to enhance their business processes; however, many organisations are still lagging behind. Undoubtedly, it's time to embrace the fact that IoT is key to remaining efficient, profitable and sustainable – and here's why.
How the Internet of Things (IoT) architecture differs from the Internet
Before discussing the benefits, we'll establish some terms; if a business or department isn't that technologically mature, there's a chance there will be some confusion about the distinction between IoT and the Internet itself. Recently, Goldman Sachs published this handy table, dubbed SENSE, to break down the essential differences.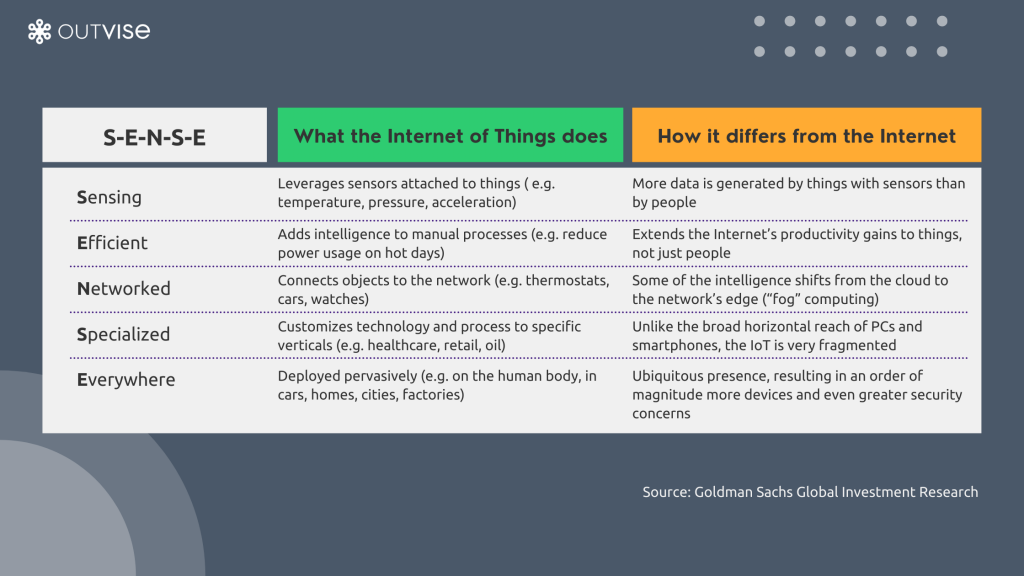 To highlight these important contrasts, I'll elaborate on a couple of key points. One essential difference is that the traditional Internet is consumed by request, whether it be a search term or URL. Meanwhile, IoT is more autonomous; content is consumed through triggering an action when a situation of interest is detected.
Equally, on the regular Internet, connections are made through physical links between pages. In contrast, an IoT architecture requires a combination of data to detect situations. This data manifests in the form of context-based event patterns, in which some algorithms detect the context and others the event itself.
There is also a difference in the value to the customer. While the traditional Internet offers value by answering a question and activating services, IoT architecture offers timely action or notification based on these detected situations. Thus, it has the power to preempt needs and wants. This is where many of the benefits lie – which we'll examine in the next part.
How IoT architecture is enhancing business capabilities
Better understand customers
Connected technologies bring businesses closer to their customers' demands. Through information harvested from IoT devices, companies can gain deep knowledge of their behaviour and preferences. For example, Samsung obtains user data from smart TVs to learn more about their customers' viewing habits.
However, these technologies don't necessarily have to be built-in; companies can obtain valuable customer data from third-party applications. Either way, this intelligence is essential to enhancing business efficiency and serving customers better.
Create added value tools
IoT also provides vital information for the development of new features to enhance consumers' experiences. This can be applied on various scales, from everyday consumers to large B2B clients. To give an example of a B2B application, sensors could be attached to agricultural machinery to control soil condition and yield. This could be performed either via recommendations delivered in an app or automated fertilizer dosing equipment.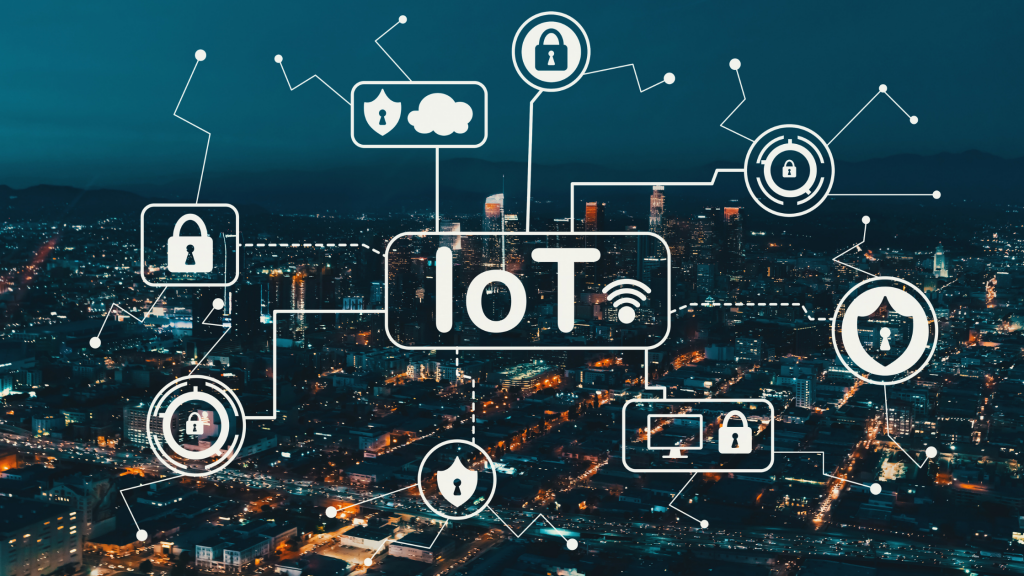 Optimise operations
Data from IoT devices can streamline management, automate production and/or operations, and enhance the efficiency of internal tools. Here's a case study to illustrate the point: a ride-hailing app developed an algorithm to monitor traffic congestion in real time. This is also used to control the concentration of drivers in a given area to ensure their density is relative to demand. This information is also essential to adjust prices accordingly.
Monetise insights
They say that data is the new oil, and certainly, the data generated by IoT devices is of extraordinary value. The capacity to combine IoT data with business intelligence will be the modern-day enterprise's greatest asset. With careful examination, this information can reveal opportunities to increase revenue and address bottlenecks, which in turn, will reduce costs.
A word of caution – security is paramount
In spite of the substantial gains IoT architecture brings, it is crucial to note that if not properly implemented and monitored, it has the capacity to cause losses. Proper IoT device management and security is a critical issue when undertaking a project of this nature, as the adoption of these vast, distributed networks opens various points of entry for cybercriminals.
IoT security tools should be able to adapt and autonomously repair in the event of a security breach. When implementing IoT, it is important to partner with proven vendors and verify that they have in-house security capabilities. One potential solution is the Object Naming Service. This is a secure data transmission model that provides reliability, anonymity, and resistance to attacks when using smart solutions.
IoT architecture – some closing remarks
It's not unusual for businesses and individuals alike to be skeptical about new technologies. However, it's impossible to ignore the potential for growth. In our post-pandemic moment, one of the best decisions a business can make is to get into the practice of implementing IoT solutions. 
The best policy is to start with simpler projects that are unlikely to impact business continuity, then scale-up from there. This first implementation will certainly enhance confidence, enabling the integration of IoT into the broader IT and digital transformation strategy. Ultimately, companies need to understand that IoT is a necessity for profitability.
This means putting projects into action now – and to develop an IoT architecture that is effective and secure, businesses need experts. To source the specialised knowledge you need to get your initial IoT project off the ground, look no further than Outvise. With a portfolio of digital experts, including IoT consultants, data scientists, data engineers, and more, you could connect with a certified IoT architect in just 48 hours. Click here to explore the platform. 

Michael is the Technical Lead at Cedar Analytics IoT Services, an Industrial Internet of Things company offering consultancy and tools- hardware and connectivity to businesses. He is a passionate technology professional with close to a decade experience.
He is a result driven individual with a passion for emerging technologies developing businesses, and helping them grow. He is also a skilled and experienced problem solver who optimizes business profitability by leveraging technology.