Reading Time:
6
minutes
It's the essential purpose of the telecoms industry: to keep us connected. Providing higher speeds, greater coverage and lower latency levels are essential for retail, commercial and government organisations, and indeed, individuals. Since their introduction in the late 20th century, satellite technologies have provided vital communication services globally, especially in remote areas. Now, the market for 2022 is moving into a new epoch of satellite connectivity with LEO satellites.
Rural internet via satellite was historically dominated by geosynchronous (GEO) satellites. In the coming year, the industry is projected to shift towards Low Earth Orbit (LEO) satellite technology. Whereas a GEO satellite orbits the Earth at approximately 36,000 km from the Equator, an LEO satellite is about 50 times closer. This slashes latency, and with relatively high throughput levels, could be a game-changer for connectivity.
Could LEO satellites provide high-speed Internet everywhere?
LEO satellites have the potential to provide worldwide Internet access with high bandwidth and low latency. These constellations offer the possibility of a bandwidth per user of between 100-300 Mbps and latency of between 20-50 ms – ten times lower than that of GEO satellites.
Many LEO satellite constellations are under development and some are already providing services, including:
SpaceX's Starlink: Over 4,500 satellites for phase one. Currently, more than 2,000 are in orbit and operational, with a direct B2C sales strategy. Service beta was launched in 2020 at ~100 Mbps per user.
Telesat's Lightspeed: 298 satellites in total, with launch projected for 2022–23 although it'll probably be delayed. Only a few trial satellites launched.
OneWeb: 648 satellites in total, currently 428 in orbit, with a projected completion date of the end of 2022. Sales will be conducted through partner telecom operators.
Amazon's Kuiper: 3,236 in total, none in orbit yet, with a projected launch date of 2026 – although this is yet to be officially confirmed.
Inmarsat's Orchestra: 150–175 LEO satellites, as part of a connectivity solution that also includes 5G and GEO satellites.
A big question for telecom providers has always been how to get an Internet connection in rural areas. These projects could provide a solution. Indeed, the COVID-19 pandemic forced the world to embrace digital, highlighting the need, if not right, to Internet access. According to research, Internet penetration is just 24% in developing regions like Middle Africa – a stark contrast to the 98% penetration rate in Northern Europe.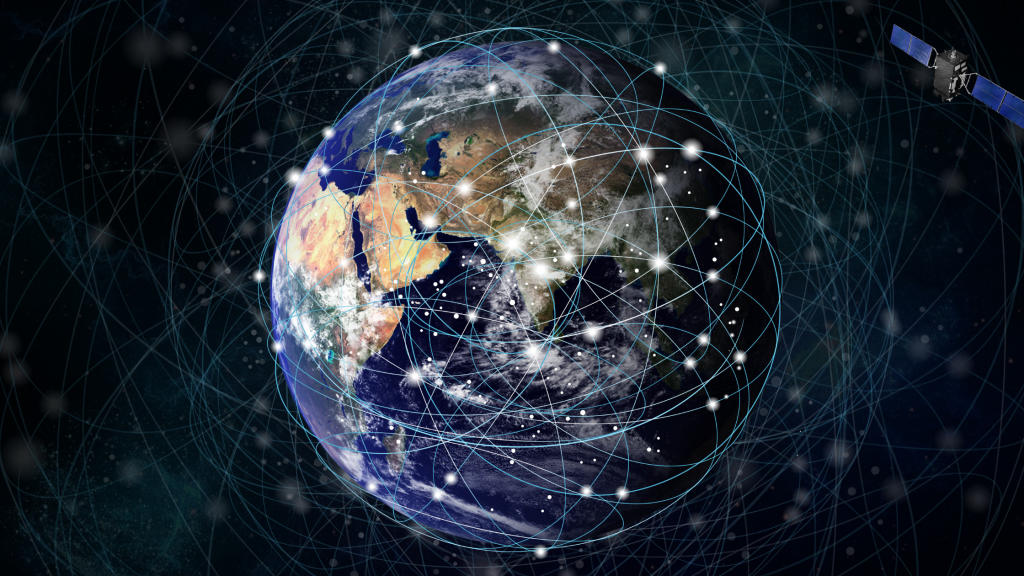 This, of course, has implications for a population's prosperity, productivity, and in the pandemic, even their health. Geographic accessibility and the cost of laying fibre optic cables are the primary barriers to ubiquitous Internet access; however, LEO transmission Internet can overcome these obstacles. By providing global high-performance connectivity without large ground-level infrastructure, they potentially hold the key to ending the digital divide.
There are also plans to use LEO satellites to underpin other types of connectivity. For instance, Kuiper, Amazon's $10 billion, 3,236-satellite project aims to provide Internet coverage for those areas that fibre can't reach. During prototype testing, Amazon claimed they were reaching throughput speeds of up to 400Mbps.
They've also brokered a partnership with Verizon to use Kuiper to backhaul 4G and 5G networks. In theory, this would enable Verizon to offer high-speed mobile coverage for these hard-to-reach areas without having to dig trenches to lay fibre optic cables, which in many cases, is logistically difficult and financially unviable. Thus, LEO satellites not only offer the potential for Internet connectivity but improved cellular coverage too.
These possibilities provide substantial opportunities for funding and commercialisation. Facilitating the end of the so-called digital divide has the potential to attract a significant amount of public funding and private investment. Equally, other applications of LEO satellites include the possibility to provide Internet access on planes and ships, a further boost to global productivity and convenience. This could certainly attract big investments from commercial clients like airlines, who are looking to add a USP to their offering.
The obstacles to ending the digital divide once and for all
However, it's important to not overstate the overall capacity of networks provided by LEO satellites. They're good, certainly, but still pale in comparison to the overall throughput provided by fibre cables. Total throughput per each initial LEO satellite constellation is estimated between 1.5 and 10 Tbps – enough to significantly improve rural access for maybe a few million people – but negligible if compared to the thousands of Tbps of land-based fibre networks. This is why only low density and underserved areas are targets for LEO satellite fixed Internet access. Ultimately, it should only be considered a solution when everything else is not possible.
Despite the potential for large public and private investment, the business case for its large-scale commercialisation also remains uncertain. The first wave of LEO satellite services at the end of the '90s were all financial failures due to their very high cost for users, the fast expansion of 2G networks and the limited use-case scenarios. The service provided by the new LEO constellations certainly has many more use cases and could potentially appeal to millions of customers, but it comes with a costly end-user receiver (Starlink currently charges $499). Equally, the $99 per month subscription cost could also limit market penetration.
This isn't to say that players aren't making moves to avoid repeating the mistakes of the past in 2022. The beta version of end-user terminals released by Starlink last year was heavily subsidised to drive adoption, with estimates suggesting that the real cost of the end-user receiver was significantly above $1000. BCG estimates that the cost of end-user terminals will fall to approximately $130–$300 over the next decade, and if Elon Musk´s announcement at MWC 2021 is to be believed, this could come much earlier.
However, considering disposable income across these remote areas, additional measures will likely need to be taken to attract customers and ensure the economic viability of these constellations. Ultimately, companies need to recover the huge investments that were made for their design, manufacturing, launch and operations of these satellites, and this will almost inevitably affect the end-user.
Projections for the near LEO satellite market future
All things considered, it's likely that at least one or two players will be able to overcome these obstacles and provide service profitably from the LEO satellite market in 2022. Experts have Starlink tipped as the most probable leader, not only because of its early-adopter advantage, but also its involvement with Elon Musk's pet project SpaceX. SpaceX is already placing a huge emphasis on cost reduction and accessibility and seems to already have a significant advantage over competitors in regard to cost.
Another tip is OneWeb, which is supported by the UK government and some big corporate players including Bharti Global and Airbus. Although they'll be
more enterprise and government-oriented (read: higher prices per connection), this will probably make the company more resilient – as it happens, they've already survived one bankruptcy. As listed above, others will enter the market, but it is too early to say how the delay will impact their business.
In the end, LEO satellite market could be the lifeblood of a rural Internet connection, remaining the only option where no other access is available. It will have a very strong impact on rural communities as it has the potential to close the digital divide in a short time. This could revitalise some of those communities that currently struggle to attract new populations due to the lack of infrastructure – especially at a time when remote working is considered an attractive option by many.
LEO satellite market has the potential to transform public investments in telecom infrastructure, attracting part of the funds now dedicated to extending the fibre footprint in rural areas. However, it seems unlikely that it will dramatically impact telecom operators' business, as it is an alternative only for areas that are not profitable for them to serve unless there are public subsidies. In the long run, LEO satellites networks will coexist with fibre networks complementing their coverage, hopefully attracting enough users to achieve financial profitability and avoid the fate of their predecessors 20 years ago.
Get the telecom expertise you need with Outvise
The deployment of major telecom projects requires expertise, and to crack a burgeoning 2022 market like this, you need it fast. Businesses need experts with extensive experience in the market: what's worked and what's failed, from both a technological and business perspective. For new, technologically complex projects like LEO satellite market launches, this can be difficult to source, as many of the top experts have moved into the freelance market.
Outvise provides the connection you need to these sought-after professionals. With seasoned experts and innovative newcomers alike, Outvise links telecoms companies with consultants, engineers, government liaison experts and many other specialist professional profiles. Explore the portfolio of certified expert freelancers here – and be connected with a professional for your project in as little as 48 hours.

Alberto is a strategy consulting professional, MBA from IE Business School, ex Monitor Deloitte, with more than 17 years of experience in business strategy, go to market, strategic planning, digital transformation, innovation and financial modeling for multiple Global 500 telecom and consumer goods companies.