Reading Time:
5
minutes
It's strange to think that what began as a discussion between four former colleagues is now a leading freelance platform for TMT and digital experts. Operating in EMEA, with over 33,000 professionals from more than 40 countries in a range of fields, Outvise and its partners have been at the vanguard of the future of work for almost six years.
This is because these four colleagues, Eusebi Llensa, Pau Cerdà, Alex Collart and Frederic Caillau had a vision. They wanted to create a tool that could provide professional services in a way that was relevant to the changing landscape. This meant it had to be fast, agile and user friendly, with a trustworthy, fully certified portfolio of experts.
This idea was seeded at the World Mobile Congress in Barcelona. Eusebi, who had recently returned from South Africa, had a conversation with Alex, Fred and Pau. All experienced management consultants, they began to discuss what the future of work would look like. It was the early days of the gig economy, but platforms were still lacking the focus that high-level telecom, media and technology companies needed to hire top freelancers.
It was here that these four entrepreneurs identified a gap in the market. After an initial seed round in 2016 and three years consolidating the project's value, the freelance platform gained a significant new investment in 2019. Now, post-pandemic, Outvise is leading the way to shape the freelance revolution. Here, we'll introduce the partners – and in light of the quickening freelance revolution, they'll share some leadership tips for this new landscape.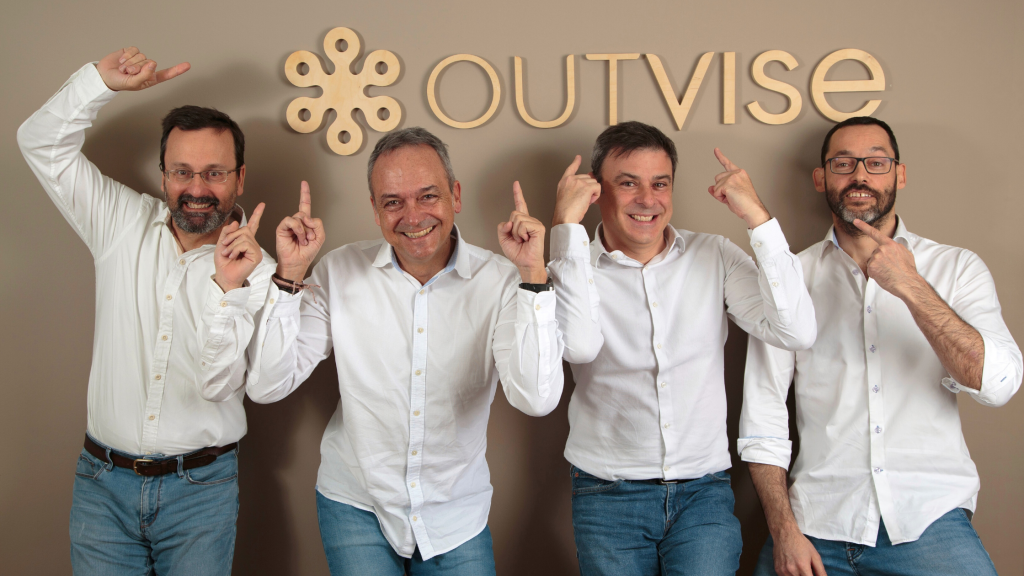 Meet Outvise's partners
Eusebi Llensa, CEO: "We are transforming how professional services are delivered"
Top management tips
Things take time
Manage by goals
Mix teams together
Eusebi Llensa is an experienced consultant and entrepreneur who has dedicated his career to disrupting the way talent is sourced and acquired. With significant experience in the European, African and Asian markets, Eusebi has always thrived on meeting people from different cultures. This is what inspired him to build a freelance platform that would help professionals from all over the world connect.
It's his passion for connecting people that informs Eusebi's approach to management, something that remains relevant in our post-pandemic world. Although the pandemic ushered in a moment of acceleration, Eusebi lives by the mantra that things take time. Developing skills, learning and testing theories is a process, and only with time, can the team grow. Managing by goals is another important aspect of facilitating this growth. Setting clear targets and spending as much time as possible discussing these goals is key to unity and a common purpose. 
Finally, he cites mixing teams as a crucial aspect of his management style. By working together, the team can bond, nurture a common purpose and create a dynamic environment where they can share ideas. This is the case for in-person and remote teams, where forging these relationships will be essential to creativity, no matter the method of communication. 
Alex Collart, CFO: "It's only with freelancers you can have the right talent at the right time"
Top management tips
Get the best talent
A good attitude makes a good fit
Freelancing is the key to agility
Alex Collart has a background in consultancy and finance, having worked with Oliver Wyman and McKinsey&Co, to name but a few. Now, he manages all Outvise's corporate functions, resources and assets as the CFO. This is a project he's fully embraced, as he points out that we're in the midst of a paradigm shift in regard to talent. He imagines a future where being a freelancer is the new normal and it's a future that he wants to champion as the leader of a freelance platform.
Why? Because talent is the lifeblood of an organisation. The better the talent, the more the organisation can thrive – and this idea is at the core of his headline management tip. Get the best talent you can. This talent needs to have the right attitude as, after all, positivity is key to driving projects forward. You spend a lot of time with your colleagues, so they need to be the right people.
Lastly, your plan to access this positive, dynamic talent must include freelancers. In a fast-paced, constantly evolving market, you need people with the right expertise and fast. This is why freelancers must be a key part of your "talent jigsaw" as Alex calls it. They're fast, agile, and innovative, just like the market conditions your organisation has to face.
Pau Cerdà, Co-founder and Director DACH: "Why hire the best if you don't trust them?" 
Top management tips
You're only as good as your team
Give them autonomy
Create a nice atmosphere at work
A freelance platform like Outvise enables us to completely rethink the consulting business using tech and Pau Cerdà is a professional with extensive experience in that regard. Pau became a co-founder of Outvise after launching several digital startups and consulting companies that advised major telecom and media groups. 
As a partner, his philosophy is all about autonomy; after all, this is what the freelance lifestyle is based on. He points out that you're only as good as your team and this is why you should hire only the best. But, once they're in place, what is the point of hiring the best if you're just going to tell them what to do? This is why it's essential to give talent space, so they can do their best work.
Finally, Pau is also about a people-focused approach to the workplace. Make sure you cultivate an enjoyable, relaxed office environment where you can have fun. Optimism and a can-do attitude drive results, so make sure as a boss you're facilitating a positive atmosphere.
Frederic Caillau, CTO/CPO: "Only companies that use a flexible workforce will be able to adapt fast enough"
Top management tips
Create an environment for agility,
Have a 360-degree approach to management
Acknowledge the good work
Bonus tip: Do not listen to the sirens of the next big thing
Things are moving faster than ever and they're not going to slow down, so organisations need tools like Outvise to access and manage talent. As an expert in digital product management, Frederic Caillau is in charge of building and maintaining these tools – the freelance marketplace and FMS – in his role as CTO/CPO. Driven by vision and deeply invested in UX, Fred ensures the platform works smoothly, has useful features and a pleasing and intuitive interface to provide the most relevant results and a positive user experience.
Fred's first tip is to create an environment that enables agility. This is essential to keep up in a fast-paced environment. However, an agile environment has many characteristics; one of the most important being safety. This means cultivating an atmosphere where people feel empowered to share ideas, listen to each other and collaborate in a meaningful way.
This caring approach to management should be end-to-end. This is what Fred refers to as 360-degree management, which in other words, means that ideas and plans are fully and articulately shared from the outset. All stakeholders are involved from the get-go and the objectives should be user-centric. Finally, you have to acknowledge the good work. You should communicate the team's achievements and give them recognition.
Finally, a bonus tip: don't listen to the sirens of the next big thing. You need to identify which trends and tools are useful to your business plan, driving your mission forward. This perhaps demonstrates why consultancy is so important; in an environment where things are moving so quickly, you need the guidance to identify what's useful and what's just a trend.
What is the best way to find and hire a freelancer?
There you have it – the team that brought Outvise to life. So if freelance talent is the key to making an organisation faster, better and more innovative, what's the best way to access this talent? The answer is simple: with a freelance platform like Outvise. Outvise is among the top freelance websites to source the most experienced talent in TMT and digital, curated and fully certified by our expert recruitment team.
Plus, thanks to our unique project-matching algorithm, it's easier than ever to identify the profile most relevant to your project. With a user-friendly interface and access to support from a dedicated account manager, sourcing talent has never been easier. And how much does it cost to hire a freelancer? Signing up for a client account is absolutely free, with the commission charged only once you make a hire. Click here to learn more.

Alex Collart, CFO & Co-founder at Outvise. Serial entrepreneur and management consultant, with a focus on strategy and marketing. Has co-founded and exited several companies. Former McKinsey&Co associate. Industrial Engineer + MBA (IESE/Kellogg).