Reading Time:
6
minutes
Infrastructure and physical security can fall by the wayside in the excitement of a workplace relocation. Oftentimes, this isn't due to naivety or some sort of willful negligence, but the lead times associated with office moves. In the current context, it seems worthwhile to discuss the ins and outs of a proper data centre migration plan, and indeed, the merits of employing a dedicated IT project manager during an office relocation.
This is a phenomenon many organisations are experiencing as we tentatively exit the pandemic and new working methods are coming to the fore. Lots of companies are downscaling or reconfiguring their premises, and considering the short leads on many return-to-the-office notices, the execution can occasionally be a little slapdash.
To avoid these pitfalls, you need to get the IT team involved in the plan as soon as possible. If the lead time is indeed short, it could be advisable to draft in a dedicated IT project manager, particularly one specialising in infrastructure and technology, to steer the move. IT, data centres, computers and telecom connections form the literal backbone of connectivity for workspaces, and when relocating or fitting out a new facility, it's essential to consider both the digital and physical milestones. Let's get into it.
Scope out the lay of the land
Although lead times can be short, if the site is a greenfield project, you'll need at least three months to make sure the proper infrastructure is in place. This might be something the construction team will take care of, but it's crucial to get an IT project manager involved. You would be surprised what can be overlooked without the proper expertise and knowledge of the requirements.
This process will begin with a "letter of intent" or signed lease to request internet circuits. Telecom circuits are typically enterprise-grade with pre-arranged service level agreements, so it's a far more complex endeavour than requesting a broadband connection to a private residence. The delivery timeframe will typically be around three months from the purchase order, and if the site is greenfield, you may need more time still to connect to the municipal grid and lay new fibre cable. Either way, your chosen Internet Service Provider (ISP) will perform a site inspection and advise on delivery and last-mile connectivity.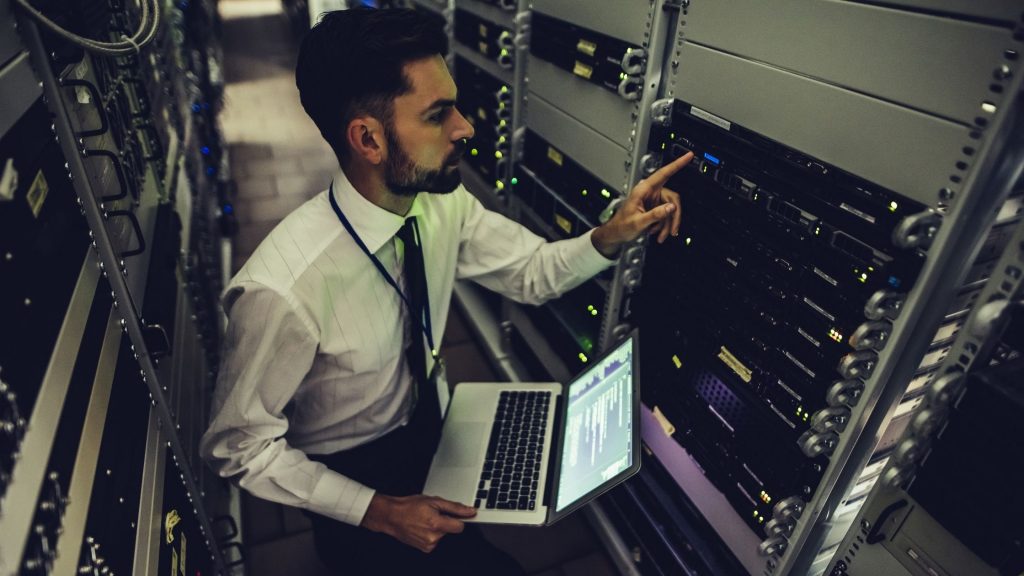 The next stage will be a little closer to home. You'll need to consider the floor layout, space calculations, and headcount. These will be key deliverables for the IT project manager, as they will be used to assemble the overall solution and draw up the IT bill of materials (BOM). The IT BOM is essentially a shopping list that itemises infrastructure equipment, software and the one-time and recurring costs (CAPEX & OPEX). If the new office wasn't part of your annual budget planning, the BOM can support the IT change request approval process.
During the test fit-out phase, the general construction contractor should work closely with IT and facility departments to determine office data and power connections, a blueprint for the IT server room and patch room specifications. They'll also need to plan structured cabling, power and cooling requirements and plot the location of WiFi access points in the ceiling.
The data centre migration construction phase
The next stage of planning will be construction. Regular collaboration between the workplace fit-out contractor and IT department is essential to dove-tailing the office fit-out timelines and the data centre migration plan, no matter the proportion of on-site or cloud storage. This is where an experienced IT project manager really comes into their own, bringing both streams together and keeping management informed.
The fit-out contractor generally includes the IT server room and patch room construction in their scope of work. A key delivery milestone is the IT server room sign off; this will provide clean, uninterruptible power and cooling so the IT integrators can commence. Having a clean and tidy IT server room with door access control allows the IT department to receive procured equipment, rack-stack and start configuring in a dust-free environment. Regular coordination with CSP as to the delivery time of the fibre connection into the server room is also key, as they'll likely need a server rack to mount their appliances.
This phase is crucial to physical data security in both the short and long term. It will be critical to ensure the safe transfer of existing and new equipment as part of the data centre migration plan, as well as ensuring a secure operating environment. Maintaining service availability and uptime is essential to protecting data, and these solutions aren't only digital.
Any data centre should be designed, built and maintained to withstand everything from natural disasters, to corporate espionage, to opportunistic robbery. Water, power, telecom lines and ventilation are also essential to physical security and temperature control, and backup is essential in case of an area-wide power outage.
Executing the workplace cutover
The final phase is fully realising the data centre migration plan and transplanting the operation from one site to another. It is crucial to agree on the office changeover approach early to set expectations and to manage the project budget. Two commonly adopted approaches are:
What is lift and shift data centre migration?
This approach transplants existing assets to the new site. It reuses existing office technology, core infrastructure and telecom circuits to kit out the target workplace. Although this is the cheapest and quickest form to relocate, it's also the riskiest. If the workplace infrastructure is broken in transit and/or suffers spin up errors, both the existing and target workplace facilities are out of commission.
How is this different from gradual migration?
This approach involves setting up and running a parallel network. Generally, stand up network connectivity in the target workplace and seed infrastructure will run side-by-side. This will facilitate a gradual move-in process and data centre migration. Once colleagues and all data centre infrastructure are safely set up in the new office, the old office technology is taken offline and repurposed.
Along with these umbrella approaches, you need to think about the full arsenal of office technology. An IT office relocation checklist will include:
AV/VC: Audiovisual, telemetry signage and video conferencing systems for meeting room and collaboration spaces.
Telephony/unified comms: Companies with on-premises PBX phone systems (VoIP) require planning and reconfiguration (don't forget to re-point ISDN/E1 and any Point-to-Point circuits if used!).
Physical security: Door access control and CCTV have appliances that need server room rack space – include port space in your access switches and the setup in your IT cutover run book.
Print devices: Those multifunction printers under enterprise contracts generally need two to four weeks' notice to relocate and change billing addresses. Pro tip; office printers with "follow me printing" features linked to employee swipe badges should be compatible with the new workplace door access system to avoid colleagues needing separate badges.
Reception or front office staff: Check for unique usage requirements including software to digitally manage guests; issue new badges; hand out visitor WiFi credentials, route incoming calls, book and reserve rooms or desks and so on.
The above are just a few insights into the management of workplace buildouts, office consolidations and the construction of a data centre migration plan. As is evident, there are many points to take into account. These will be essential to the safe and secure running of the business throughout the transition and into the future.
This task is complex, and as inferred, there is a strong case to bring in a dedicated IT project manager to mastermind the process. The experience they bring will help mitigate the potential growing pains of a workplace relocation, ensuring the unique needs of the organisation are taken into account.
Find an IT project manager with Outvise
In the past, many businesses have found sourcing external experts a daunting task. Often, this will be because of antiquated HR practices or poor experiences with online platforms. In the first instance, the process surrounding a new hire will be too time- and resource-intensive to justify, especially if it's only for a specific project. Meanwhile, experiences on non-specialised freelancing platforms can lead many HR managers to think that finding an appropriate freelancer is like looking for a needle in a haystack.
Outvise was created to confront these parallel issues. Our portfolio of digital and TMT experts brings recruitment into the 21st century by making freelance hires incredibly agile, with projects matched to experts in as little as 48 hours. Meanwhile, the needle-in-a-haystack conundrum is solved by the curated nature of the portfolio; every expert is fully certified, while the unique project-matching algorithm features profiles by relevant experience.
If your company is undergoing a relocation or reconfiguration, Outvise can help you recruit an IT project manager, data expert, cloud architect, or any other specialised freelance profile. Click here to explore the platform.

Keith has managed & delivered 11 ´First 100 Day´ IT post-merger integrations; 1 Global ITSM SaaS Platform implementation; 1 ERP upgrade; completed 1 Transition Service Agreement & multiple office/warehouse IT fit outs across AMER, EU & APAC during the past 14 years in small, medium & large enterprises.
He's the founder of 1 UK limited company & worked as an Independent IT Project Management Contractor full time since 2017 deploying complex global IT TechOPs Infrastructure, M&A Integrations, Digital process improvements & software implementations in fast-paced, hands-on multidisciplinary environments.