Reading Time:
7
minutes
If you were asked to name some of the most influential women in tech, who would spring to mind? Ada Lovelace, the world's very first computer programmer? Or Annie Easly, whose work made the very first space missions possible? Or perhaps Karen Sparck-Jones, the programmer whose algorithms were the precursor to modern search engines? What about today, in 2023?
Certainly, these computer scientists and mathematicians did groundbreaking work. Women have made some of the tech's most important discoveries, and yet, it's still very much a male-dominated sector. Nonetheless, there's plenty of talent out there looking to follow in their footsteps; so what's the outlook for women in tech in 2023?
Outvise invited three tech trailblazers to discuss how the industry is evolving in the panel discussion "Women in Tech: Breaking into the Industry". In this webinar, I was invited along with seasoned software engineer and metaverse innovator Nelly V. Tacheva and up-and-coming AI expert Carla Mao to discuss their experiences as women in business and tech.
They shared invaluable advice for women looking to make it in the field. For all the insights and a compelling Q&A, watch the full webinar. Alternatively, I'll run through some of the key insights from the event here. To learn more about how and why the future of tech is female, keep reading.
Why are there so few women in tech?
I already mentioned some of the most notable women in tech throughout history. But, in light of their incredible achievements, why are there still so few women in tech in 2023? It's undoubtedly one of the world's fastest-growing fields, with a widening talent gap that demands plentiful and diverse hires. So what's the delay in addressing the gender balance?
Here are some statistics from the UK that illustrate the issue. According to data collected by Tech Nation, the UK tech industry attracted a staggering £6 billion of venture capital investment in 2018. Meanwhile, in the following year, only 17% of IT specialists were female – a number that has remained virtually static for a decade. As a professional that's worked right through the dot com boom until now, it's remarkable that women have remained in the minority for all of my career. But I have to mention that when I studied theoretical physics at university, women were 33% of the classroom. The percentage has dropped and some speculate that the root cause could be the "women in STEM paradox" that brings fewer women to science in countries with higher gender equality.
This lack of progress is curious in light of girls' performance in STEM subjects at school. Data shows that girls perform better across the board in their GCSEs, the UK's standard high school exams, and yet, they find themselves outnumbered 82 to 17% on computer science courses at university. Other European countries have comparable gaps; in Spain, for example, only 16% of professionals in the STEM field are women and just 0.7% of teenage girls said they were interested in pursuing a STEM degree.
The panellists agreed that an important strategy was changing the narrative from the outset. Women in tech should embrace programmes that reach out to girls in school, highlighting the opportunities that the industry offers. They need to highlight that computer technology, engineering and sciences (physics, chemistry and mathematics) are intellectually and financially rewarding, and have cross-over with many other disciplines. The cross-over with other disciplines, such as philosophy, history, politics, anthropology, could be a gate to enhance women's will to engage in STEM.
This will play a big part in doing away with the "jobs for the boys" stereotype. We need to re-paint the picture of what a programmer looks like: instead of a man tinkering on a computer in his basement, we need to communicate that programmers have all sorts of backgrounds and profiles. Indeed, changing this stereotype would be beneficial for men from diverse backgrounds too.
However, another important issue is creating more role models for women in business and tech. Carla, Nelly and I agreed that there's a lack of sponsorship in the industry that needs to be addressed. More women need to be promoted into senior roles to support others' achievements, while women at every level should support each other to succeed.
How can a woman succeed in tech?
So how can women shine in a sector that's still so dominated by men? During our discussion, Nelly highlighted that one of the most useful things women can do to get ahead is to find a mentor. It's very common amongst men in the industry to have a senior colleague that's invested in their development. In many ways, women should seek to do what they do best and work together to succeed.
This should be the case at every level. Carla mentioned that she's part of an association for women in tech in Singapore called She Loves Data. The network offers workshops, courses and mentoring programmes for women in the industry in Singapore. Carla commented that she finds it to be an excellent support network and would encourage other women in the industry to look for similar organisations in their country or region. There's plenty out there, in fact, there's so many it can feel a little overwhelming!
But, it's important to emphasise that by creating more camaraderie in tech, we can support women to go further. Carla suggested that this could do a lot to redress the balance in the face of a boy's club culture. She referenced that a big factor behind Elon Musk's recent acquisition of Twitter was financial backing from university friends. Why can't women club together and use similar strategies to make waves?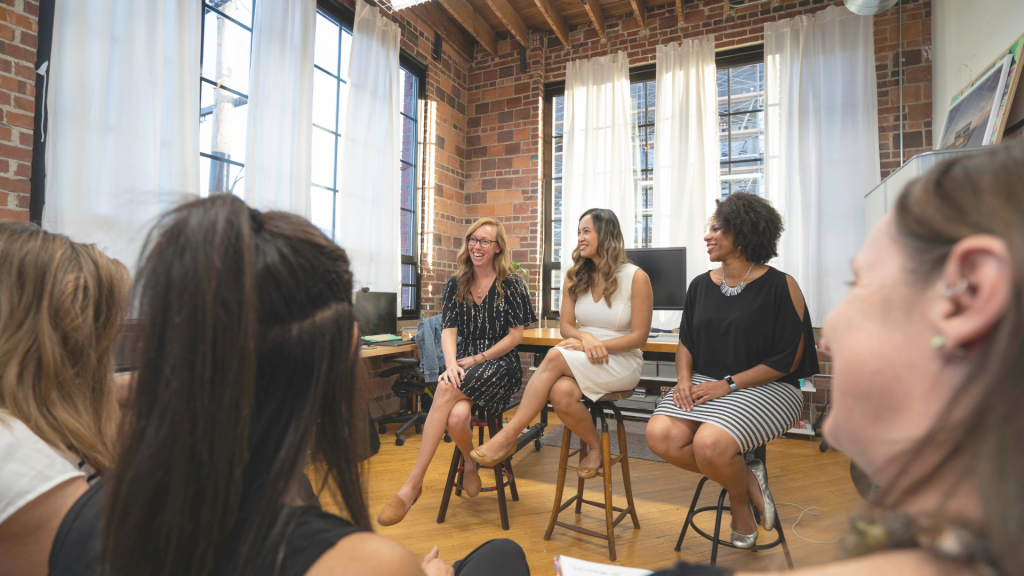 Nelly also pointed out that placing women in senior roles will do a lot to change the management culture in tech. As an expert in leadership and management, Nelly suggested that more women in leadership roles could lead to a more collaborative and inclusive industry. It could also lead to a shift in management styles; instead of rewarding more dominant personality types, we can place equal value on more collaborative working methods.
This is especially important in regard to the changes we are seeing. In my experience in the field, it's clear to me that the industry is rapidly becoming more interdisciplinary. The scope of the fields that tech interacts with is growing; from philosophy to anthropology, tech is making an impact. Diversity of thought can only make these endeavours more successful.
How can the industry support women in tech in 2023?
The panel outlined that there are many things that women can do to help each other break into the upper echelons of tech. Through collaboration and camaraderie, women can exploit the things that often come very naturally to them to make it to the top. But while women support each other, what is the industry doing to help them?
Thankfully, the key players are seeing the value of diversity at the highest levels of the organisation. Looking once again to the UK, hundreds of the country's biggest enterprises have signed up to the Tech Talent Charter. The initiative's 600 signatories – including Outvise clients Capgemini and Vodafone – have committed to adopting recruitment and retention schemes to promote greater diversity in tech.
Nelly also observed that many tech companies are becoming more open to accommodating women's work-life balance. Women are often responsible for a million different things, whether it be childcare, domestic work, caring for elderly relatives, or supporting partners. Organisations are seeing that greater flexibility within the workday is a key route to retaining top talent, which is an encouraging development.
Meanwhile, many women are taking advantage of companies' increased openness to hiring freelance talent. Freelancing enables many women to work more flexibly on interesting, dynamic projects. Certainly, it comes with greater uncertainty, but I would argue the benefits outweigh the risks. In turn, organisations are seeing the clear benefits of contracting external expertise to develop game-changing projects.
Making the future of tech female
For the concluding thoughts of our webinar, the panellists were asked what advice they'd give to their younger selves. Carla said she'd tell her younger self to be more assertive and stick up for herself and her ideas. The industry might be tough, but things are changing and she'll get the recognition she deserves.
Nelly left us with this inspiring statement: If it doesn't scare you you're not dreaming big enough. She further emphasised the importance of getting a mentor. In changing office environments, there's no shame in admitting you need help; in fact, many companies now commend and facilitate those that show a willingness to develop.
I wholeheartedly agree. I would remind my younger self of five key things: the first is to reiterate what Nelly said and get a mentor. This will ensure that you never stop learning, which is my second important piece of advice. Thirdly, to make a difference you need to be bold and challenge current trends, so make sure you stay ahead of the curve.
This should come hand in hand with balancing your career with your personal interests, which can feed and nurture each other. A good work-life balance will help drive your personal development, which is my fourth point. My final piece of advice might not sound very feminist, but I'd tell my younger self to listen to my father – he always nurtured my love for science.
I'll conclude with this thought: tech is changing the world, from how we work, to our homes, cities and personal lives. The industry is reshaping humanity – and humanity depends on having women at the table.
Outvise supports women in tech
Carla, Nelly and I are all part of the Outvise network, along with thousands of other talented women in business and tech. Outvise passionately believes that women will play a crucial role in shaping the future of the industry. That's why they support and promote Europe, MENA and Africa's most outstanding freelance talent.
Embracing freelance talent goes hand-in-hand with promoting greater diversity in technology. Much of the industry's most promising talent has embraced the freelance lifestyle to enjoy greater flexibility, more dynamic working environments, and a greater variety of projects. As a result, influential professionals and rising stars alike are now found in the freelance talent pool.
If you haven't already, join some of consulting and technology's biggest names and leverage the Outvise network. With a wealth of diverse freelance Business Tech talent based all over the globe, it's a key tool to transform your talent strategy in 2023. Click here to get started.

Telecom and IT professional with over 25 years of experience in Strategy, Management Consulting, Business and Technology Consulting, in Utilities and Telecom projects in Europe, Africa, Middle East and Latin America. Business and Customer Intelligence. Former Accenture Telecom executive and Director of Telefonica strategy for LATAM. Customers like Telefonica, Telecom Italia, Vodafone, Swiss Telecom, TeleSp, Vivo, Telefonica Mexico, Chile, Argentina, Peru.