Reading Time:
5
minutes
The talent revolution is upon us. Technology is moving faster than ever and businesses need a talent strategy to match. A freelance marketplace like Outvise offers a solution: a human resources strategy that's fast, agile and provides companies with the talent that they need in a timely manner. Considering the technological developments on the horizon, adopting this strategy will be the difference between those that succeed and those that lag behind.
The Outvise team is committed to advocating for the talent revolution. The marketing and sales department plays a vital role in this advocacy through their commitment to the talent revolution. They do this through their deep understanding of their clients' and experts' needs, which is achieved through an international, multilingual team that understands the nuances of different regions and sectors. Different team members are devoted to expert relationships and client relationships creating the comprehensive support our community needs.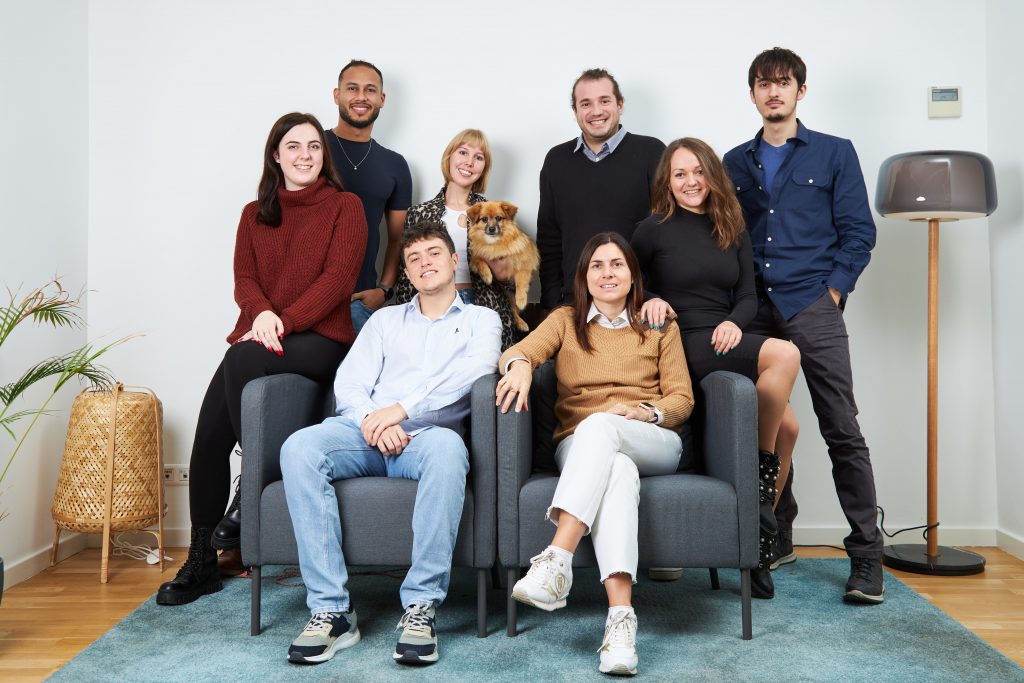 Here, the Outvise team, comprising Patricia, Ana, Carla, Elene, Tora, Denis and Peter, share their approach to championing the talent revolution and how they work together to deliver the best possible experience to all parties.
How do I find a freelance consultant?
Ana: The answer's simple: Outvise!
Patricia: Haha, yes. When Outvise was set up, the founders had a vision. They could see that freelancing was the future, but the first wave of platforms fell short for high-level hires. The ocean of liquid talent was at their fingertips, but it was like finding a needle in a haystack. They needed an intermediary they could trust to source the most relevant, experienced profiles to leverage a contingent workforce to its fullest.
Carla: And it has to work for both parties. If experts don't feel they're getting the care and advocacy they deserve, they won't stay on the network. So it's about retaining talent and clients at once.
Denis: That's why our clients and experts are at the centre of our work. We strive to ensure we can deliver the maximum speed and quality. We love speaking to both our clients and experts and hearing about their needs and translating into solutions that can make freelancing easier and more accessible.
Can you explain a little more how you help clients find the best people for the job?
Patricia: I think it's our own expertise and background knowledge that's absolutely key. We let our customers and industry experts know about the trends we see in technology, media and telecommunications and use that to assist them with their hires and projects.
Ana: Yes, and we try to do this with as much finesse as possible. One size doesn't fit all – there are different trends, tendencies and priorities in different regions. Our regional focus and knowledge of local markets allow us to bring a region-specific perspective to the clients' needs and match them with an expert with the relevant knowledge, whether it be regional or technical.
Peter: This internationalism is reflected in our makeup as a team –we're from six different countries and speak 11 different languages. This helps us interact with our clients and experts on a level, creating an authentically one-on-on experience.
Tora: I think this subject of language and internationalism reflects another of our priorities: transparency. It's in our DNA; we strive to communicate clearly with our clients so they have a full understanding of the way we work and our expertise. It's about being human and putting people first.
Are consultants really experts?
Ana: Of course! Well, it's probably important to mention that Outvise doesn't just contract consultants, we source hands-on technical experts too.
Elene: Right, we're not a consultancy firm, we're a marketplace. We connect companies directly to talent.
Patricia: Nonetheless, I mentioned earlier that Outvise sought to fill a gap in the market when it was created. These non-specialist platforms were all very well and good, but they weren't suitable for mission-critical projects. The certification system just wasn't rigorous enough for telecom, media and tech companies looking to do something disruptive. Our team makes sure that every single one of the profiles on our platform is the best of the best: experienced and fully verified.
Ana: Absolutely. Before, utilising a freelance platform came with the risk of being inundated with inappropriate applications. The Outvise team eliminates that caveat.
So we've talked about clients; how does the marketing team support experts?
Carla: This is crucial; I said earlier that supporting experts is just as important as supporting our clients. In order to have the best portfolio of experts, we have to deliver on both ends.
Peter: Completely. To do this, the Outvise team works hand in hand with our experts to make their profiles shine. This ensures they get the most out of being part of the community.
Denis: We also advocate for the power and capacity of a flexible workforce. We genuinely believe that freelancing is the future of work, delivering the maximum value to both the expert and client. This is because freelancing is dynamic and exciting for the expert and fruitful and efficient for the client. It's a win-win.
Patricia: This is why freelancing represents the workforce of the future. Technological development is moving so fast that we need a workforce that reflects this agility: available, flexible, cost-efficient, and most importantly, an expert in their field.
Elene: And we take the time to explain to our clients how this talent revolution will affect their business going forward and why it'll be those that adopt this strategy now will be those that stay ahead of the curve.
Do you have a working method to deliver this experience?
Tora: For sure! The Outvise team is all about collaboration. This team mentality is what facilitates the high efficiency and low-cost service we provide.
Denis: That's how we make sure clients and experts alike get the best possible experience when working with us.
Elene: Our own expertise is also central. Patricia already mentioned how we share the latest technology and innovations with our clients; we do this by keeping ourselves constantly informed. This involves everything from reading reports to liaising with clients and attending global conferences.
Patricia: That said, it's also the simple things that keep our team collaborative. We eat out, enjoy the outdoors and do team-building activities to ensure we have a positive atmosphere in the office that makes sure we work for each other as well as customers.
Work with the Outvise team to source the expert you need
Our sales and marketing team advocate for our experts so that our clients can get the most out of the platform. This works both ways; our team supports experts to ensure they get the best possible projects and remain motivated to be a part of the community. As a result, we create a symbiosis where all parties work together to deliver the best possible service: one that creates a dynamic, exciting and effective environment for clients and experts alike. Click here to book a demo with an account manager and find out what the Outvise team can do for you.

Experienced marketing manager with entrepreneur spirit, passionate about making an impact in brand communication and awareness.
M.A. in Media, Communication and Culture