Reading Time:
6
minutes
The pandemic changed many things about the way we work. Some changes, however, were already in motion before the virus emerged. Travel has long been established and encouraged among young people. Now, the chance to work while doing so has made this possible for legions more, including those that are well beyond the gap year age bracket. For those looking to travel around Europe, a digital nomad visa is an increasingly sought-after document to facilitate this lifestyle.
The rise of the digital nomad is being embraced by governments and companies alike. It is no longer a fringe lifestyle choice but an accepted career path for people looking for richer life experiences and new ways of working. Meanwhile, jurisdictions are understanding the benefits of having digital nomads in their midst. In Europe, the digital nomad visa represents an opportunity for nations to open themselves up to investment, growth and cultural diversity.
Living abroad for an extended period of time offers more than just an ordinary holiday can. People can get to know new countries, cultures and communities on a deeper level while adding invaluable experience to their resumes. Experts in their various fields can widen their field of experience by working for different clients in a range of contexts.
In light of this cultural shift, many countries around the world are expanding their options for people who want to live and work in their cities. One such nation is Spain – a perennially popular destination for holiday-makers and expats alike – but what's the landscape like for digital nomads now?
Who are digital nomads?
Before discussing the specific matter of digital nomads in Spain, we'll outline who digital nomads actually are. Many people have preconceptions about this type of worker, which in fact, can be misleading. Instead of being the exclusive domain of the fresh-out-of-university designer or developer, a range of professionals are embracing life on the road.
As is well-known, the viability of this lifestyle was demonstrated to many during the pandemic. At the same time, many businesses were coming to the realisation that offices were a costly and unnecessary financial burden. Thus, the digital nomad population exploded; 2022 saw an astonishing 131% increase in Americans self-describing as digital nomads compared to 2019.
Digital nomads value some things differently from traditional workers. For instance, many see increased flexibility as very important. In fact, 67% of digital nomads placed greater autonomy of choice over working hours as the most important reason for going nomad. Another 61% claimed that the increased time available to them because of removing the need to commute was important.
The digital nomad demographic is diverse but is predominantly Millennials with an average age of 34. In fact, according to digital nomad statistics of 2023, this age group makes up 79% of the nomad population. However, baby boomers do still represent a larger portion of digital nomads than you might think. As seasoned pros, many are looking to embrace the opportunity to travel that the pandemic ushered in.
What is the most common digital nomad job?
Digital nomads work in jobs that can be done from anywhere. This is possible across a wide range of industries, but true enough, remote work is most ubiquitous in tech.
The MBO Partners report on digital nomads showed that computer literacy was a defining feature of the digital nomad, with 86% reporting they use technology to make themselves more competitive in their work. Digital nomads are also more likely to be early adopters of technology than workers with a fixed abode.
However, digital nomads aren't as concentrated in tech as one might think. In fact, the distribution across professions demonstrates remarkable diversity. According to the same MBO partners report, those surveyed represented the following professions:
Information technology (21%)
Creative industries (12%)
Education and training (11%)
Sales, marketing and PR (9%)
Finance and accounting (9%)
Consulting, coaching and researching (8%)
Right now, 75% of digital nomads are self-employed or freelance. Workers are no longer tied to desks in company offices and can work at all hours, from anywhere. To find these flexible jobs, they use well-known talent platforms such as Outvise. These platforms offer a place where, from around the world, digital nomads can find work.
The emergence of these talent platforms has made becoming a digital nomad much easier, as it comes hand in hand with the trend towards greater work autonomy. With these platforms, they can connect to clients quickly and easily in a manner that's simple, efficient, and fully compliant with regulatory requirements.
What does the world look like for digital nomads today?
Unfettered by deskwork and the nine-to-five, digital nomads realised that they can be just as productive if not more so working from different locations. They are leveraging tech to their own benefit, utilising changing modes of employment and living. In response, companies such as Airbnb directed their marketing towards digital nomads, offering discounts for longer stays and offering incentives to hosts for promoting high-speed internet.
With such incentives, many are looking to stay on the road as long as possible. In the Schengen zone for example, many might be looking to extend their trips beyond the usual tourist visas as there's so much to see and explore. In light of the opportunity for investment, many countries are sitting up and paying attention to the demand.
In Europe, digital nomad visas are becoming more common with many countries in the EU and the EEA offering a variety of options. These will either be a type of visa explicitly created for digital nomads or a path that makes living while working remotely in the country easier. Countries such as Estonia, Hungary, Romania and Croatia are top of the list for tech-savvy individuals looking to make in-roads into flourishing industries.
Digital nomad visas enable travellers to prove they are either self-employed or working for a company based outside of the host country. While being an important legal requirement, it also serves to attract talent that has something to offer the country in question. Digital nomads are no longer just hipsters looking for new experiences, but professionals with a varied work history and range of skills.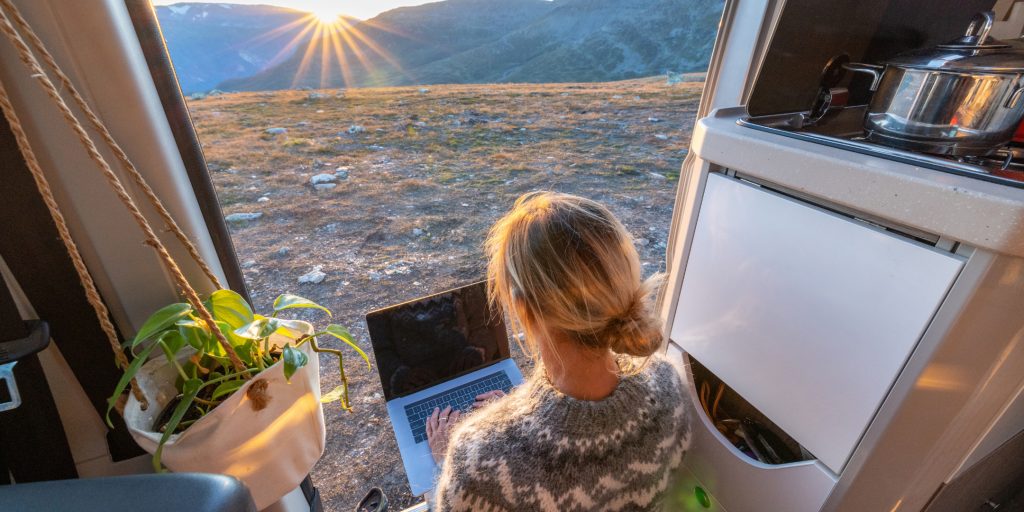 Does Spain offer a digital nomad visa?
The short answer is yes. In Europe, the digital nomad visa project is growing and Spain is an obvious destination for switched-on digital nomads. Barcelona, for example, is a prominent tech hub as well as a beautiful and bustling coastal city with world-renowned cuisine, nightlife and culture. Many other cities around the country are also attracting digital nomads for their high living standards, particularly if the worker is bringing foreign income.
Recent legislation, bundled in as part of Spain's startup-boosting initiatives, seeks to attract foreigners looking to live and work in the country for up to five years. To apply, digital nomads need to show they have a regular monthly income of €2,520 (2x the minimum wage of €1,260). Meanwhile, they'll benefit from a lower tax rate of 15%.
For those looking to see the rest of Europe, the digital nomad visa that Spain is offering allows restriction-free travel through the rest of the Schengen area. Apart from Portugal, this sets the country apart from other countries in the region as it is a more generous offer. Other countries' visas only allow workers to remain in that one country.
This latest proposal offers many benefits to Spain and its economy. In comparison to other countries in Europe, the digital nomad visa that Spain offers has the potential to attract greater talent. This is due to its already burgeoning tech and creative industries scene. While it is true that digital nomads must show that 80% of their income comes from outside the country, they can earn 20% from Spanish companies.
Their presence in the country will boost investment in housing, hospitality and entertainment, a welcoming relief as a recession looms. Furthermore, this influx of talent increases opportunities to further grow local industries by sharing knowledge and experience. Even if workers are not directly working for European companies, they are regularly bringing new expertise and ways of working into industries.
However, these visas are not just a way to attract young workers to European countries. For Europe, the digital nomad visa is a chance to entice entire families with included flexibility for bringing spouses and children along as part of the same visa. It is important to be aware, though, that you need to prove you earn enough to support any dependents while you are in the country.
An open-minded approach to open talent
For Europe, the digital nomad visa represents an opportunity to attract growth through innovative ways of working. The pandemic shook things up in terms of how we search for work, complete projects and maintain working relationships. Talent everywhere has been unbound from the limits of the office space and opened up to a new world of work.
People are coming to realise the value of drawing in talent that knows how to work hard as well as appreciate the advantages of living somewhere new. Countries are opening their borders and minds to open talent and the dynamism it can bring. From fresh ideas and agile work practices to the peripheral benefits of enhanced investment in tourism, there's a lot to be gained.
In Europe, the digital nomad visa is a way to look further afield at the kind of person these countries attract longer term. No longer the reserve of wealthy retirees, these countries can now attract those who are willing to put in the work to grow their business: the self-employed, the freelancers and the part-time contractors. Hungry talent, young and experienced alike, are all waiting on talent platforms such as Outvise.
Register as a freelancer here
Register as a client here

Experienced marketing manager with entrepreneur spirit, passionate about making an impact in brand communication and awareness.
M.A. in Media, Communication and Culture