Reading Time:
7
minutes
Workplace trends are constantly evolving: as 2023 begins, businesses need to stay future-focused in order to thrive. The effect of the pandemic continues to ripple through the fabric of society, disrupting the previous status quo. Economic tumult on the horizon spells an unsteady start to the new year and meanwhile, technological disruptors are set to upend the ways we structure the workplace.
Facing these challenges is tightly bound up with finding the right people to help you see it through. But as concerns about talent acquisition grow, finding the people with the skills to help your company adapt to the changes ahead will be key. Fortunately, Outvise is here to help you keep up with the latest forecasts and talent trends for 2023.
With these insights, leaders can ready their organisations for the challenges that the next 12 months may bring and sustain growth. Here, we've outlined some experts' key predictions for the year ahead to ensure you stay informed and ahead of the curve.
The 8 key workplace trends to follow in 2023
Economic recession looms
Last week, the head of the IMF stated that they expect one-third of the world economy to hit a recession in the coming year. Overall this represents a projected 2.7% fall in global growth. The three chief drivers of this predicted slump are the war in Ukraine and the consequent spike in energy costs; rising inflation, which in many countries, has hit its highest rate since the 1980s; and the subsequent economic slow-down that we've already seen happening in the US, Europe, and China.
If businesses carry out shrewd preparations, they can safeguard against economic instability: according to PwC's Pulse Survey from October 2022, only 30% of business owners see the recession as a serious risk, claiming that the lessons they learned during the pandemic have made them more resilient to adversity. One of the key pillars of this was a more flexible attitude to when, where and how we work.
Tactics that businesses can use to counteract the effects of the recession include embracing hybrid work practices, streamlining their workforce and having clarity on the talent they need to acquire to stay ahead of the competition. With an open-minded, agile approach, they can get the people they need on board to navigate rough seas.
Hybrid work is here to stay
Speaking of, hybrid work is one trend that will endure. The 2020 lockdown acted as a global social experiment – and over two years later, one of the conclusions we can draw from this is that remote and hybrid work practices have big benefits for both businesses and employees.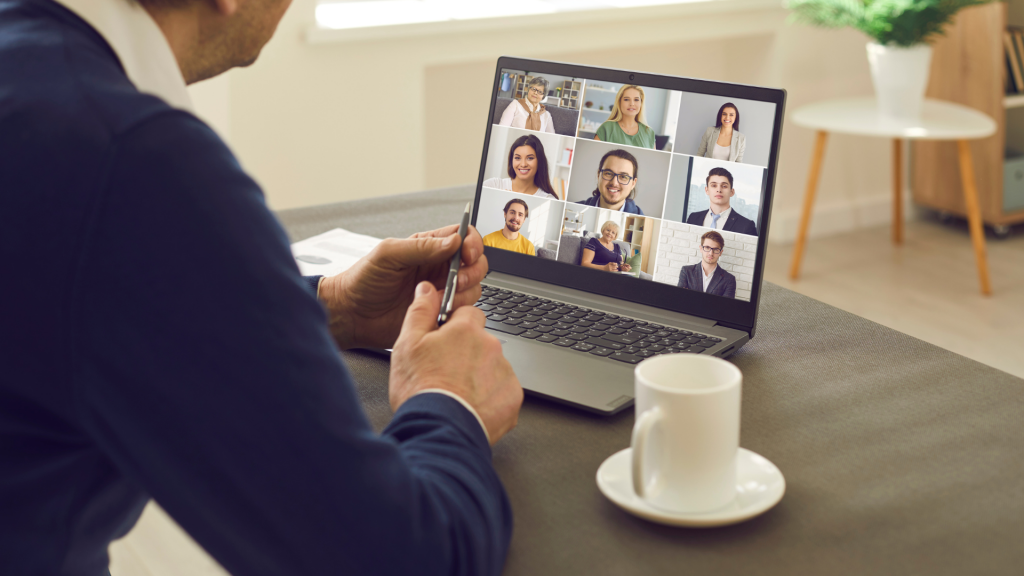 Although workers have returned to the office post-pandemic, according to the Gallup State of the Global Workplace report, 9 in 10 employees prefer some degree of long-term flexibility going forward. A more flexible mindset is set to be one of the most significant workplace trends of 2023, as embracing a robust hybrid work policy can greatly increase a company's chances of attracting and retaining talent.
What's more, remote work can cut costs for businesses drastically, saving thousands of euros per employee every year. With a more streamlined onsite workforce, leadership can spend less money on rent and real estate, and instead, invest in talent and company growth.
Reducing headcount
This concept of streamlining brings us to the next key workplace trend for 2023. Many businesses are considering slimming down their workforce in order to make operations more efficient. A remarkable 50% of respondents to the PwC Pulse Survey said that they were planning to reduce their overall headcount during the coming year.
This will particularly affect market sectors such as technology, media and telecommunications, where companies are more likely to invest in automation. Since the new year, Layoffs Tracker calculates that over 110,000 employees have already been laid off in the global technology sector. In particular, sensational staff cuts at Twitter, Meta and Amazon have made headlines.
While tech layoffs look to continue into the first half of 2023, this does not necessarily reflect workforce trends as a whole. In fact, highly skilled specialists are more sought after than ever, as businesses are recognising the difference between having workers and having the workers they need.
Why is recruiting so hard?
With a recession on the horizon and layoffs in key sectors, it would be easy to assume that recruiting in 2023 will be a buyer's market. However, there is currently a high ratio of job openings to applicants, especially in skilled roles. According to statistics from Eurostat, 3% of jobs in the European Economic Area remained vacant throughout 2022 – more than ever since records began in 2006.
The impact of the so-called Great Resignation, which has continued to sweep through North America and Europe since 2021, is becoming more and more visible. The pandemic caused huge numbers of people to reassess their work-life balance, with many choosing to leave the confines of the office for the flexibility of freelance work.
According to Adecco's Global Workforce of the Future research, 27% of workers are considering quitting their jobs during the next 12 months, with 44% declaring that they would only stay with their current company on the condition that they are provided with reskilling and career advancement opportunities. As a result, the pressure is on companies to meet workers where they are, making recruiting more demanding than ever.
Employee well-being is critical to continued success
Low rates of job satisfaction are a major factor in companies' struggle to retain talent. According to Gallup, employee engagement is plummeting, with only 21% of workers worldwide saying that they are engaged at work. Meanwhile, stress is at an all-time high. The regional percentage of engaged employees is at its lowest in Europe, with quiet quitting – i.e. employees doing no more than the minimum required by their contracts – on the rise.
This is one of the more troubling 2023 workplace trends that managers must address if they wish to attract and retain the top talent they'll need to stay ahead. Leadership is arguably the key factor in employee engagement, with managerial style strongly influencing workplace culture. Hiring a management consultant or investing in leadership development can help businesses make positive changes to their workplace environment in order to prioritise employee well-being.
The impact of automation – but not as you know it
Accelerated digital transformation is already here, with an increasing number of daily tasks being delegated to artificial intelligence. Despite what it may look like, this in no way renders the human worker obsolete. In fact, it means quite the opposite for the world's most outstanding talent.
While artificial intelligence can automate routine or repetitive work such as information gathering and organisational and calculation tasks, workplace trends predict that in 2023 we'll see an increased focus on the skilled work that only humans can carry out – as well as a heightened appreciation of uniquely human soft skills such as creative and critical thinking, interpersonal communication and leadership.
If businesses want to benefit from the opportunities that automation can offer, they will need to seek skilled professionals to set up and work alongside this new technology. Such workers will ideally have a combination of specialised knowledge, familiarity with the technology in question and experience in similar business environments. The current demand for these specific skills is creating a talent shortage that businesses must think strategically to overcome.
The rise of the metaverse
The structure of our online space is changing: blockchain technology and DAOs, or "decentralized autonomous organisations", present new possibilities for privacy and participation online, while virtual reality and 3D immersive technology form the building blocks for an increasingly immersive metaverse experience. This technology may not reach its full potential in 2023, but its star is ascending and is gradually changing the way we consume, interact – and work.
Metaverse technology can be an invaluable tool in organising a remote workforce, for example. While employees have made it clear that they appreciate the flexibility that hybrid and remote work provides, it can also pose barriers to teamwork and workplace culture if it is not well coordinated.
New digital collaboration platforms can provide virtual spaces in which colleagues can connect and interact, reducing the isolation of remote work and making team management more effective, while new HR management software can streamline operations such as time tracking, engagement, workflows and more.
The digital talent demand dominating 2023
So what is the latest recruitment trend with the most traction? We predict cybersecurity experts and data professionals are set to be some of the most sought-after experts in the coming year. According to PwC, cyber-attacks are what companies are most worried about at present, with 40% stating that it is a serious concern.
Cybersecurity risks soared during the pandemic as an unprecedented number of employees started logging on from home, and as more and more businesses continue to move online it's crucial that companies take proactive measures to keep data safe. Hiring cybersecurity expertise will be a crucial step.
Data professionals, especially those with a specialism in data ethics and potential bias, are also among the top talent trends for 2023. Companies' reliance upon machine intelligence is only set to increase, with many businesses already using data gathered from customers and clients to inform their decision-making. With so much riding on the algorithms they use, a dedicated specialist can make sure that these models don't have an unintended drift or bias, as can often be the case.
Flexible recruitment solutions to meet challenges head-on
Attracting, retaining and engaging top employees looks to be more of a challenge than ever in the coming year, especially when it comes to highly sought-after roles such as the above. This can make talent acquisition seem like a daunting prospect.
But under these circumstances, the increasing number of skilled workers deciding to go freelance can prove an advantage to businesses. The growing open talent market allows a greater number of companies access to skills that are in short supply in the workforce as a whole. Workplace trends indicate that in 2023 more businesses than ever will be taking advantage of this cost-effective solution.
The increasing flexibility of the labour market also means that there are more options on the table. In lieu of hiring a full-time employee, if the right candidate does not appear, managers can take advantage of bespoke talent solutions – whether this is upskilling existing employees by inviting a consultant to give training workshops, hiring a professional on a temporary basis in order to carry out a specific project or implementation scheme, or trialling a new position by bringing a freelancer before taking the decision to make a full-time hire.
Such approaches can give businesses access to the skill sets they need at a fraction of the cost of a permanent employee – a recession-proof hiring strategy that allows companies to take advantage of the new talent trends for 2023 without breaking the bank. Explore Outvise's portfolio of top Business Tech talent to discover more solutions for the year ahead.

Seasoned marketing professional with 13 years of international experience working in hospitality, financial, technology, retail industries and consumer brands.
FTTH Council Europe Women in Fibre Committee Member.