Reading Time:
6
minutes
In today's hyper-connected world any action, campaign or communication made to our prospects or clients must be perfectly tied to a global company strategy and specially supported by what our customer/prospect's data is telling us. The way we can collect and analyze our user's behavior throughout our company's digital assets spectrum comprehends the world of Digital Analytics (or Digital Marketing Analytics). 

What is Digital Analytics and what is going to contribute to my business?
Taking one of the main discipline's creator words into account, Avinash Kaushik's brilliant Digital Analytics definition was:
"Digital analytics is the analysis of qualitative and quantitative data … to drive a continual improvement of the online experience that your customers and potential customers have which translates to your desired outcomes (both online and offline)."
In other words, Digital Analytics provides insights about the user navigation and behavior across our company digital assets (websites, apps, smart devices, etc.) and offline transactions (for instance, in-store sales). Based on these insights the Digital Marketing teams will be able to create data-driven strategies that improve our customers/prospects experience in order to offer our product to the right audience at the right time in the right place, enhancing conversion rates and sales.
Let's provide more context on some of the concepts mentioned:
Quantitative data: refers to metrics that you can count, objectively. For instance: pageviews, user interaction events in your website (page loading, a link clicked, a bounce, etc.), number of users navigating to specific sections of your site, number of products sold.
Qualitative data: helps analysts identify the reason(s) behind changes, trends, etc. and aims to ask the audience directly about things that quantitative data can only suggest. Examples are heatmaps, consumer surveys, user reviews and ratings, and live chat feedback. All of these methods help us to understand the user experience. It's notoriously more labour intensive to analyse this kind of data, but it is increasingly valuable.
However, collecting all users' digital interactions (quantitative data) consistently throughout all our webs and apps is not a simple process. Following, some common challenges:
User switching between devices: a difficult challenge comes when a user starts a conversion process on mobile but ends up buying the product on a desktop.
Multi-channel engagement: when the user interacts with more than one channel before buying your product (for instance, clicks on an online ad from Facebook, also clicks on another of your ads included in an online banner of a publisher, and finally engages with a newsletter that you have sent before buying), which channel should you attribute the sale to (Facebook, the publisher, email)? Where should the marketing budget go?
Offline and online worlds: how to know when online advertising is driving offline sales or vice versa?
The right Digital Analytics strategy provides answers to all these questions. In this article, we are providing a general idea of how to get started with a Digital Analytics data strategy within your company. So, please continue reading. 
How to establish the foundations of a Digital Data Strategy in my business?
This point is aimed to summarize the 4 key phases that needs to be taken into account to develop a Digital Marketing data strategy within your company. Let's not forget and emphasize that a data strategy is principal to achieve the objectives of the Digital Analytics definition mentioned, which will lead us to transform the data collected into actionable insights for your Digital Marketing team.
Moreover, a successful data strategy needs to consider these key concepts: people, processes, technology, and of course, data.
Discover your business goals and digital strategy:
In this phase we must carry out two simultaneously fundamental tasks in terms of organization, both identifying and defining the business objectives and listing those who will be our impacted partners and stakeholders. We should also discover the technology that we have at our disposal to achieve the objectives and the digital assets and their roles in the data strategy that we are going to build. At the level of partners and stakeholders, we must align objectives to retain and involve on the best possible talent while convincing possible groups that can struggle with the cultural change that results from our planned implementation and transformation process.
Digital Assets assessment and data collection strategy
The purpose of this exercise is to analyze the state we are in and what state we want to be in the future. For this we must review business processes, data sources, data assets, technology assets, capabilities, and policies. This phase usually involves the departments responsible for customer acquisition, retention and customer processes in order to build our data collection strategy.
Lastly, we should look into which people of each of the departments that make up the company are data evangelists by nature or not. We must identify who we can leverage on in later phases to establish a data-driven culture within the entire organization.
Analysis, prioritization and roadmap:
This phase is probably the most intense and, without a doubt, the most important of all when carrying out the data strategy. With an eye on the future state to which we want to bring our organization, we must focus on analyzing and identifying the gaps that we may have in terms of data architecture, technology and tools, processes, training and capabilities of the people around us.
A gap analysis can present us with multiple options and possible initiatives which will need to be prioritized by using main business objectives as criteria. Partners and stakeholders play a critical role in prioritizing data-driven initiatives. The end result of this phase is a roadmap that should cover aspects such as Data Governance, Data Quality or the MDM (Master Data Management).
Company Mindset and Change Management:
Finally, as you have been able to verify the fundamental nature of the people involved in each of the phases, together with the cultural change that will arise, data strategies will collide with the focus that historically been made in terms of change management within companies.
Change management, as you may have guessed, refers to the coordination of organizational, cultural, technological and business process changes in addition to other aspects such as data governance, usability, integration and data security among others. Therefore, to successfully carry out the required changes, the organization will have to define the appropriate incentives, KPI's and metrics to monitor and enable the evolution.

How to take Digital Analytics into account as part of our business and marketing cycle?
Now that the data strategy pillars are defined, let's rise up our view and see the big picture. Let's understand how to include Digital Analytics as a discipline within our Business Cycle in order to convert data collected into valuable information. The best way to achieve that knowledge is by understanding the value of the Digital Marketing & Measurement Model:
Identify Business Objectives: Why does the campaign or asset (website, mobile app) exist? The answer to this, mandates a discussion or multiple discussions, with the senior-most leaders in your company and working with them to identify why the initiative exists. The purpose of this phase is to recognize the ultimate business objectives of our digital assets.

Identify Goals for each Objective: what are the different strategies that we would put in place to achieve these objectives?  Come up with them through a critical thinking exercise from Management, Marketers, and the Analysts – with Management in the leadership role.

Identify the Key Performance Indicators that will define each objective: finally we get to identify KPIs, defined as metrics that will help to understand how we are doing against our objectives. This is what you will measure and set up your target against. Analysts and data experts are key in this phase. 

Identify Targets: targets are numerical values you've pre-determined as indicators of success or failure. If you were responsible for bringing 5 million visits to your website in a month would you execute your campaigns differently than if that number was 500k? That is why we need to identify targets. Seek people who are accountable (client, management, Finance), they will help you identify targets for each KPI.

Identify valuable segments for analysis: this part is particularly meaningful and when we should transform all our data collected into actionable insights. Locate and understand the main groups of people, their sources, onsite behavior, and outcomes while interacting with your company for a deep insight onto your target users. 
Only once we are able to map business objectives with the data already collected from our users, we will be able to extract coherent insights out of our data and put them into action by leveraging data-driven digital marketing campaigns with relevant messages to our prospects and clients.

Conclusions
After covering these many topics, here it is what we have covered in this article:
Our strategy and the way we communicate each message to our users in a digital mindset must be supported by data (generated by our own users activity), not just by general thoughts or, let me say, intuitions.
In order to capture our prospects' or clients' attention in this hyperconnected world, these messages have to be relevant, yet personalized (let's talk about personalization and its power to acquire prospects and new clients in another moment).
All these points cannot be achieved without the transversal concept of Digital Analytics as part of our Digital Marketing strategy.
There are two main processes to take into account before starting:
1. Develop a solid digital data strategy within your company.
2.  Include Digital Analytics discipline as part of your marketing cycle (through the Digital Marketing & Measurement Model).
I hope this article has helped to clarify the idea of Digital Analytics and how it can leverage a data-driven digital marketing strategy in your company, now:
Let's put it into ACTION.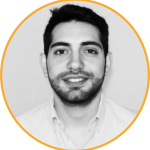 Alejandro is a Digital Strategy Consultant in Accenture Interactive, over years he has been helping clients ideating and operating data-driven strategies and evolving their marketing tech-stack either from a technical and from a strategical perspective among several industries and worldwide markets: Banking, Telecommunications, Media, Travel&Hospitality, and Retail.